The Harvard Business Review just ran a piece by Umair Haque called "The Social Media Bubble" in which Haque likens growing social media buzz to the subprime trading that put our banking institutions into the death spin they're still trying to recover from (a great read…make sure you take the time to do so).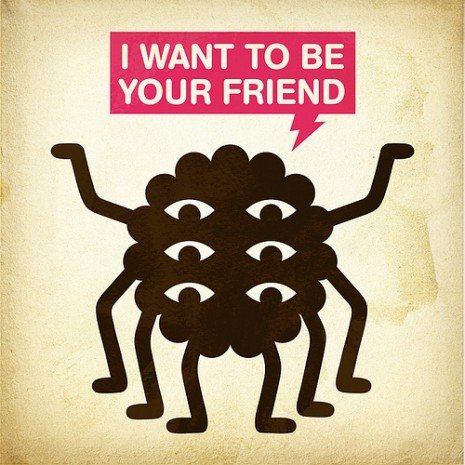 I agree with his most of his suppositions, however I think there's a very clear path to avoid the "pop" when the bubble bursts. You just need to be human. You have to be personal.
Social media has unfortunately become a numbers game, with people and brands doing everything they can to gather audiences and build the size of their following / fan bases. Many rely on auto-bots to follow (and unfollow) people, and have tons of programs to manage the connections.
Everyone wishes they had the Twitter following of Ashton Kutcher, or the Facebook fan base of Starbucks, and they end up getting stuck building up their numbers instead of making sure that they've got a clear purpose backed by great content.
Ashton and Starbucks are great social media case studies because they both do a stellar job of connecting with people. (By the way, I'm an ardent Peet's supporter, but Starbucks' social media success is undeniable.) They listen to their criticisms, they answer their detractors. They're doing everything they can to add value to the people who follow them on the respective networks.
This must be a driving force in any effect and long-tail social media strategy: focus on your connection with your community, not only on the size of it.
Yes, you can use a hundred different tools to build substantial Twitter followings, or Facebook fan bases, and there's nothing wrong with that. You can run giveaways to pull people out of the wood work. But mark my words, people won't stay and continue to follow you if you aren't engaging. If you aren't providing compelling or contagious content, you'll be discarded.
So, pay attention to what Umir's talking about, because he's right about a lot. Social media relationships can be shallow, and at times hollow, but you can change that by working hard to connect with your community in each and every way possible.
Try it right now. Instead of spending time building up your fan base or following, spend the next two days only working on improving the quality of your conversation and communication with your existing community.
Do it, and let me know how that works out for you.
Please jump in and get involved in the conversation. If you enjoyed this article, please consider leaving a comment below and sharing/bookmarking this article. Thank you kindly.